Brief:
Liam Clayton of Kind Lies contacted me to ask if I'd be interested in putting together a press release for their next single, 'Straight Lines'. After talking to Liam via e-mail and learning more about the group and the song, I put together the press release using the information provided and recent quotes.
The press release and song were sent to various online publications, playlist curators and radio stations.
Testimonial:
Sêan worked with me recently to write some press releases and a biography for my band. Throughout the process, he was extremely easy to work with, from drafting the first press release to making edits and discussing ideas. He was very proactive and quick to get work done and always easy to communicate with via email. 
While we were putting together the press release and bio, Sêan also made really useful suggestions and gave us tips on ways to better present the music and the band to the press which otherwise we wouldn't have thought of. I'm really happy with the writing Sêan has done for us and definitely want to work with him again in the future. – Liam Clayton
---
Chill pop trio Kind Lies Share New Single – 'Straight Lines'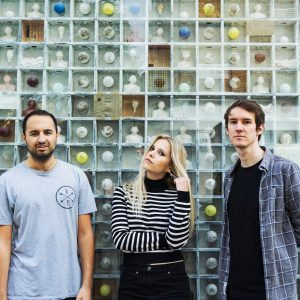 "'Straight Lines will be swirling around your head all day. It's a real earworm."
Dean Jackson, BBC Music Introducing East Midlands
Debut EP available soon
For Fans Of: Terror Jr, Carly Rae Jepsen, Kiiara
London chill-pop trio Kind Lies have released their new single – 'Straight Lines'. With their first three singles being picked up by a host of noteworthy Spotify playlists, independent new music blogs and played on BBC Introducing shows throughout the United Kingdom, 'Straight Lines' captures Kind Lies' summery, laid back sound succulently.
Kind Lies roots lie in London's DIY scene with Ross Shroff and Liam Clayton playing in numerous bands. With a mutual love for Terror Jr, they decided to write pop songs together. Corinna Jane would soon join them, adding her seductive voice to synth-laden songs such as 'Sorry (Don't Call Me)', 'Summer' and 'Prey In The Night'.
In recent months, the group have used their time to work on 'Straight Lines', the fourth and final track from their forthcoming debut EP. Underpinned by sharp tropical beats and luscious synths, the single effortlessly charms you with its beguiling pop melody.
'Straight Lines' sees Kind Lies once again collaborate with mastering engineer Katie Tavini (We Are Scientists, Sonic Boom Six, Bryde) and Manchester-based tattoo artist and illustrator Lucy Crichton.
Beyond the release of their debut EP, Kind Lies have been working on new music with eventual live performances.
Previous comments:
"'Sorry (Don't Call Me)' is an impressive pop gem… we're excited to hear more"
Discover Nü
"Summer" will become an excellent companion to many evenings… delicate, emotional vocals, a pleasant melody, a nice synthesizer sound – everything is very cool"
DJ Mishka
More Information:
instagram.com/kindlies
soundcloud.com/kindlies
twitter.com/kindliesmusic
facebook.com/kindliesmusic
sptfy.com/kindlies
Contact: