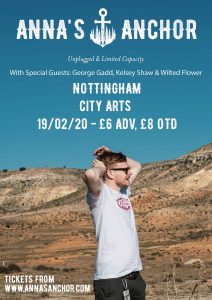 Limerick singer/songwriter Anna's Anchor aka Marty Ryan has made regular trips to these shores in recent years. Now as part of indie-emo group the Winter Passing, it's likely Ryan will be using his passport a lot more in the coming months. This week saw him join up with Nottingham's George Gadd for a short run of intimate shows.
Tonight they're in Gadd's hometown in the small confines of the City Arts space. The tiny environment creates a friendly, community atmosphere.
Wilted Flower and Kelsey Shaw add to the local spotlight on show. The former performs a solemn set of emotionally heavy songs clouded in grief and heartbreak. Her presence is timid in between songs yet treats them as an emotional release. While Shaw confidentially showcases an impressive soulful voice even though she admits missing her band (the Embers). Both singer/songwriters set the laid back tone for the evening.
Although he admits that his voice isn't on par with the opening pair, Gadd proves his ability to tell relatable yet personal stories. Throughout, he's friendly, making jokes with friends in attendance. Stylistically, his emo songs are melancholy upbeat delivered with conviction. Finishing with a rousing rendition of 'Shake a Ghost', he produces a charismatic and satisfying set.
Anna's Anchor is humbling as he rounds off the evening with a warm set. With a heartfelt DIY ethos at his core, Ryan's words are carried on his sleeve with a resonate autobiographical approach. While his Irish charm allows a bright connection with the appreciated audience.
Ultimately, tonight's intimate gathering showed why spaces such as City Arts are needed, allowing independent artists to showcase their talents. The quartet of artists all displayed an ability to connect with everyone in attendance, bringing a mix of joy and sadness but overall a gratifying evening of talent.