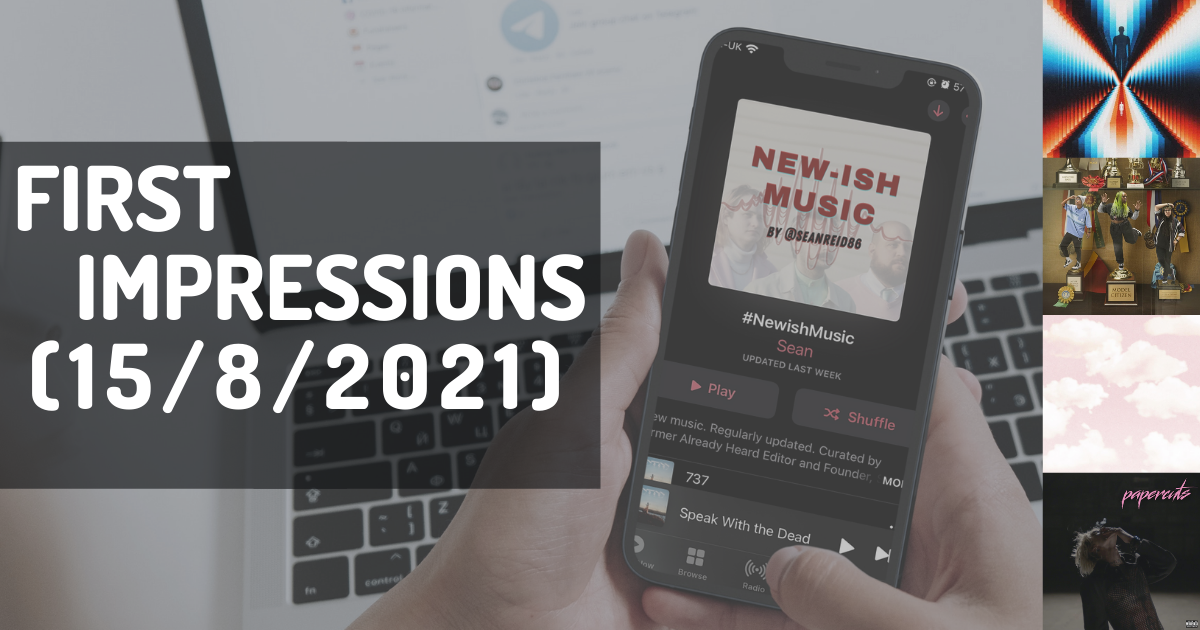 As a promise to myself, and you the reader, I'm back for the second weekly take on some of the new music released this past seven days.
Follow/Subscribe to my 'New-ish Music' playlist on Spotify and Apple Music.
---
Trash Boat – Don't You Feel Amazing?
With every release, Trash Boat have confidently shredded their pop-punk skin, forging a path of their own. Their second album, 'Crown Shyness', exemplified this progression, both musically and lyrically. For its follow-up, 'Don't You Feel Amazing?', the St. Albans band serve up a boisterous set of songs, executed with bold energy.
The Nine Inch Nails-esque titular track, 'Vertigo' and 'Idios' thrive with urgency, similar to Bring Me The Horizon's recent output. Tobi Duncan's comfortably switches between clean vocals and screaming, against a backdrop of sharp, metallic guitars. 'Bad Entertainment (feat. Wargasm's Milkie Way)' is a sonic whirlwind delivered with a brash attitude.
While 'Cannibal' and early standout single, 'He's So Good' shows their credentials for delivering memorable hooks. The latter is one of my favourite songs of the year; its explosive pacing and impassioned lyricism makes for a winning combination.
The shackles are definitely off. From the nu-metal flirtation on 'Alpha Omega', the harmonious 'All I Can Never Be', and atmospheric experimentation on 'Live Like a King, Die Like an Animal', Trash Boat aren't afraid of taking risks. While the results might not be instantaneous, it's a daring and admirable move, yet it's an unexpected one.
It might not quite feel amazing, but it's certainly an intriguing direction. One that has the potential to eventually become beneficial for Trash Boat.
Meet Me @ The Altar – Model Citizen
Meet Me @ The Altar are a band that has received a fair bit of attention in recent months. Away from the usual music press outlets, they've been featured in The Guardian and The Independent. The trio has repeatedly been highlighted for representing women of colour (WOC) in a scene known to be dominated by white dudes. Although that it's great to see them add to the genre's growing diversity and inclusivity, you have to question if MM@TA can live up to the hype.
'Model Citizen', their Fueled By Ramen debut, goes a long way to prove they're more than capable of doing so. 'Feel a Thing' sets the template out early on, combining easy-core heaviness with heartfelt hooks. While they understandably lean on stylistic pop-punk tropes, tracks such as 'Brighter Days (Are Before Us)' and 'Now or Never' are incredibly catching, neatly blending crunching guitars with a melodic chorus.
The 19 minutes on offer are threaded together by a youthful vibrancy, unafraid to be burdened by growing expectation, with MM@TA being confident in their ability. They have firmly shown their competence of being a solid pop-punk outfit. While they have an exciting future, it will be interesting to see if they can branch out, incorporating other ideas, in the future.
Turnstile – Fly Again
Turnstile's forthcoming LP, 'Glow On', is probably one of my most anticipated releases. Having come on board with the outstanding 'Time & Space' from 2018, I've been waiting for a follow-up. Thankfully, their 'Turnstile Love Connection' EP filled that void, previewing the new album brilliantly. Most notably, the trio of 'Holiday', 'Mystery', and 'T.L.C.' amplified Turnstile's ability at delivering memorable, hard-hitting hardcore.
Whereas 'Alien Love Call' accompanied the album announcement, showing a gentler, experimental side. New single, 'Fly Again', teases doing the same with a soft piano, before a stomping, gritty guitar takes over. Vocalist Brendan Yates battles for attention with clean and barking vocals. While the "ooo" in the verses lean on Turnstile's atmospheric side, 'Fly Again's chorus expectedly explodes, only to be anchored by whirling drums.
Although it's not as addictive as other tracks released so far, I'm sure 'Fly Again' will fit neatly into the finished puzzle that is 'Glow On' on August 27th.
Machine Gun Kelly – papercuts
I have to admit I'm a fan of MGK's take on pop-punk. Along with KennyHoopla (another frequent Travis Barker collaborator), he stirs up a heavy dose of nostalgia. Last years 'Tickets To My Downfall' was littered with bangers taken straight out of the blink-182 playbook.
'papercuts' takes a more "rock" approach. While Barker's distinguishable drumming remains intact, MGK embraces a sludgy grunginess, only to neatly combine it with a radio-friendly shine. Whether it's authentic is questionable, yet it's a formula that works.
As a taster for his forthcoming 'Born With Horns' LP, it's not as effective as 'Tickets To My Downfall's plentiful highlights.
---
What do you think of the new releases from Trash Boat, Meet Me @ The Altar, Turnstile, and Machine Gun Kelly? Let me know on Twitter – @SeanReid86.